PRODUCT DETAILS
You are not ready for this new model. The X Series Smartwatch is a flagship of the budget smartwatches with a full touch large screen covering 91%, YOGA & loads of sports modes with a sharp HD retina vision display, exceptional 260mAh battery and super stable Bluetooth 5.0. Your search for the perfect budget smartwatch may now end. You have found the X Series Smartwatch.

KEY FEATURES
The world at your wrist - The X Series Smartwatch is the budget activity tracker you need. The display is covering 91% of the full touch screen and 1,78" HD vision Retina display. You will no longer miss any important notifications, and your activity tracking thanks to the stable connection via Bluetooth 5.0. The X Series can hold up to 50 messages in its memory compare to other smartwatches, which hold only 3 messages.
New features - This watch also offers some new features! You can link the FitCloudPro app with your Google Fit, allowing you to connect to other apps such as Strava or MyFitnessPal. Another great new feature is the women's health section. You can track your menstruation cycle and set reminders, so you will never be surprised!
Less charging - No more charging overnight every other day. This smartwatch has an outstanding 260mAh battery and will last you up to 7 days in working mode.
New fashionable accessory - Not only is this smartwatch super functional and efficient, but it also looks luxurious and fashionable. The material is high-quality aluminium and you can switch between dials to personalise your style. Do you like more traditional style watches but still want a smartwatch? Well, this is it! Simply just change the dial to the traditional one and enjoy the best of both worlds.
Track your sports - The X Series smartwatch will be your new sports coach! Record your heart rate, mileage, pace and other real-time sports data. You can analyse and improve your performance thanks to this smartwatch. Enjoy 7 workout modes including yoga, walking, running, basketball, cycling, hiking, elliptical.
Monitor your health - This smartwatch offers ECG, Blood Oxygen, Blood Pressure and Heart Rate monitoring to make sure you are on top of your health. Optical sensors and intelligent processors will give you the best accurate data possible. You can also monitor your sleep and as we all know, sleep is very important in overall health.
The X Series Smartwatch is the activity tracker you were missing in your life. You can check all your messages and notifications, set an alarm, use a stopwatch, turn on the feature to find your phone, and more, all in this beautiful exquisite slim design watch.
Customer Reviews
Write a Review
Ask a Question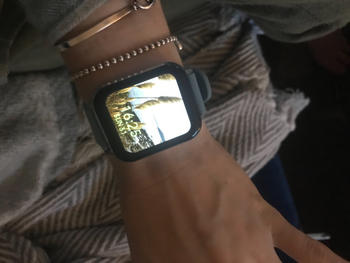 01/31/2021
Great watch
I was sceptical about what the quality would be of this product but having received it I can happily say it does everything it claims to do. It's ideal for tracking run performance and managing music when your phone is strapped to your arm etc. It's also useful for tracking sleep quality and I find the reminders to move and drink water useful for working from home. The only less positive thing I would say about it is I'm not sure how accurate the step counting feature is but that's a minor thing. It was also very easy to set up and has the option to personalise the watch face. Delivery was very fast too.
Isobel

United Kingdom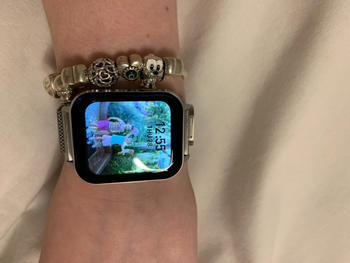 01/28/2021
Perfect
This is perfect, definitely recommend. It came in 4 days with charge and works great. Looks exactly like the photos and has/ does everything it is said to do. Now you can add customised watch faces to which is a major plus!
Amelia L.

United Kingdom
01/22/2021
Excellent so far
Seems to do everything that was advertised, charged battery fully on receiving watch and 11 days later it's on 10%, very pleased
Brian R.

United Kingdom
01/22/2021
Ten out of ten
Hello excellent quality and value for money very effective and works well great festures.very impressed with the.technology for such a readable price
Stevens B.

United Kingdom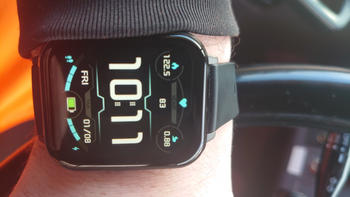 01/08/2021
Brilliant watch
Great watch the fitcloud app I use with it is very in detail. One question I would like to know how I can download more face dials please? Only comes with a few on the app I'd like to see my steps on this face I'm using but can't seem to. It's the only dial I like. Just wondering If it's possible to download anymore? Overall great watch very happy
Gareth

United Kingdom
01/08/2021
Smartwatch for Less
Hi Gareth, thank you for your kinds words! :) At the moment it is not possible to download more, but hopefully, with another update, there will be. We will feedback this to our manufacturer.