PRODUCT DETAILS
Zeblaze Ares 2 is a new upgrade that comes with an improved look, better hardware and features, and a trendy and durable design. It's designed in a circular shape with a 1.09-inch Full Touch Screen and Sport Modes. Ready to go into extremes? The Zeblaze Ares 2 has been military-grade tested.
KEY FEATURES
Stay connected thanks to Bluetooth 5.0 - Pair your watch with any mobile device with Android 5.0 and above or iOS 10.0 and above, and stay connected 24/7. You can set your vibration reminders, your alarm, do one-click photos, check your WhatsApp, incoming calls, and even more just by raising your hand! Also, you can connect your smartwatch to the DaFit app which can help you to reach your goals.
Where fashion meets technology - Our Zeblaze Ares 2 offers a slim and light body made of high-quality Zinc Alloy with 46 mm large size and 12mm thickness. This smartwatch is very comfortable on the wrist thanks to its lightweight of not more than 46g. Although it's a budget smartwatch, it is manufactured in very good quality and the new rugged design is amazing.
Customize. More than 200 watch faces available - Ares 2 has 4 different pre-installed watch faces and you can change them according to your mood. In the DaFit app, you can find more than 200 online available watch faces for download.
Monitor your workouts & set your goals - This smartwatch is equipped with many sports modes including walking, running, swimming, cycling, skipping, badminton, basketball, and football.
Health comes first - Apart from the sports features, you can monitor your health by checking your heart rate in real-time to check, if it is beating normally or not. Also, it monitors sleep to measure total light sleep, deep sleep, and awake time, to make a sleeping analysis. Zeblaze Ares 2 monitors blood pressure and measures oxygen levels in the blood in real-time to control the cardiovascular system and prevent the low level of oxygen in the blood, which can cause discomfort.
Swimming & hardening - The Zeblaze Ares 2 is water-resistant with 5ATM protection, so you can use the watch for swimming as it can withstand pressure at 50m of depth water. You can also go to extremes as this watch can withstand temperatures from -40° to 55°C.
Long-lasting life - Walk, run, train, sleep, recharge and repeat. It is very easy to charge our watch that will last up to 7 days when heavily used for all your activities and 30 days in standby mode. It has a 260mAh battery, so you can use your smartwatch more and charge less as it takes only 1,5 hours to charge it to the fullest. Battery life and charge cycles vary with use, settings, and other factors.
Want to find out more about this model? Check out our review HERE.
Customer Reviews
Write a Review
Ask a Question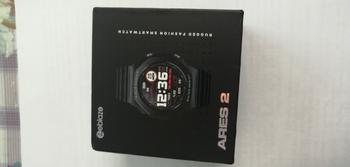 05/10/2022
great for my runs
Need another colour as well. I do everything with the watch and I can tell that is unbreakable!
05/09/2022
great watch
I need durable watch this is exatctly it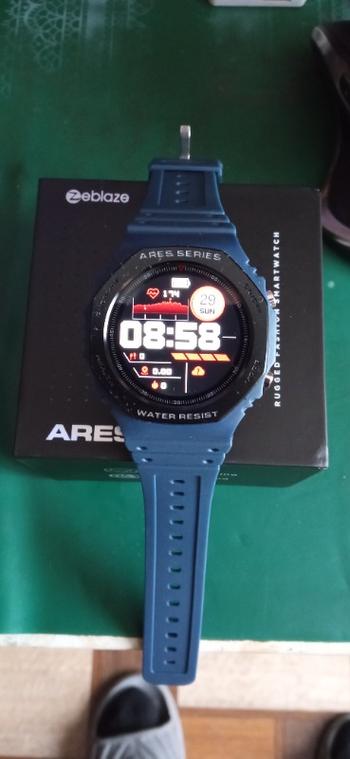 05/08/2022
great value
I work for millitary so this watch is a must! so far so good, impressed