PRODUCT DETAILS
Haylou Solar LS05 is a Haylou's new smartwatch in a minimalist design that lasts up to 30 days on a single charge. The watch has a 1.28-inch round screen 240x240 pixel, not fading in the sun. It is a perfect smartwatch for the most demanding users for a great price.

KEY FEATURES

Scientific Sleep Analysis - To improve a night's rest, the scientific analysis of sleep will help you, accurately recording the phases of sleep and awakening. All data collected by the Haylou Solar smartwatch can be viewed and analysed in the Haylou Fit app. Sci-sleeping management is developed according to Big data. Built-in sensor accesses your sleeping data through physical body frequency, and Haylou Fit will help to record such data and get you to know what is going on during the night.
A Touchable Exquisite Design - A Blast for the Young
Haylou Solar LS05 respects the trend through the minimalist design. Streamline housing gives a unique sport style that makes you keep moving. Like its name, Haylou Solar features a metal body in an arc shining on your wrist.


TFT, HD and High Light Display - The Time and Your Watch Face Will Never Fade
With more colours and details, the 1.28-inch screen delivers pictures that feel real and vivid. No matter in intense light or night, all details are showed clearly.
Creative Nano Band - Comfortable and Breathable for a Long Wear
Thanks to nano lightwave technology, the soft silicone watch strap allows your wrist
to breathe
even when it gets sweaty. With the multi-hole design, the band is lightweight for long-term wear and adjustable for different wrists.
Fearless Use in Workouts - 12 sport modes
12 sport modes are available which allow you to use your Haylou Solar LS05 when and where you want - fearlessly. No worries for power, sweat or rain, just embrace the idea of sport life. Choose from 12 Sports Modes to fit your workout plan getting it more scientific than before. Do you want to check your workout status? Just raise your wrist.



30 Days of Standby - No Panic for Power
Quality Li-ion battery offers ultra-long battery life. One top-up means 30 days of standby or 15 full days of heart monitoring.
Thanks to IP68 waterproof, Haylou Solar is resistant to sweat or rain. Just wear it to do whatever you do in your daily life. * For a longer lifespan, if the watch gets wet, please dry it before use again.


Another Outbreak in Monitoring Accuracy - Keeping Tracking Down Your Health Status
Advanced sport sensor has been applied to track your workout. With improved location algorithm, Haylou Solar can record your steps, distance and calorie consumption of activity.
A Constant Heart Monitoring - Putting Your Health Under Control
With the mainstream smart algorithm, embedded optical sensor never miss any small heart rate change. A 24-hour heart monitoring keeps your heart beats under control as a way to prevent heart diseases and allows you to change your workout plan accordingly.


A Whole Day Notice - Caring Your Life
With incoming call and message notices, you will never miss any important
situation. Stand-up and target-achieved notices help build your body. Sweet vibration notice never disturbs other people. 
Also in this watch, there are functions of breathing training, phone search, timer and stopwatch, music control or a display of weather forecast for three days.


Summary
Haylou Solar's polished metal casing is scratch-resistant. Soft silicone nano band is very comfortable to wear. 12 sports modes will help you to control and improve your success in sports. The function of round-the-clock monitoring of cardiac activity will take care of your health status. The improved optical sensor works according to new algorithms and minimizes errors in the control of cardiac activity, allowing you to record every heartbeat accurately.


* For a longer lifespan, if the watch gets wet, please dry it before use again.
* All the above data or results are for reference only, please do not use it for diagnoses.
* Parts of functions of Haylou Solar require Haylou Fit APP.
Customer Reviews
Write a Review
Ask a Question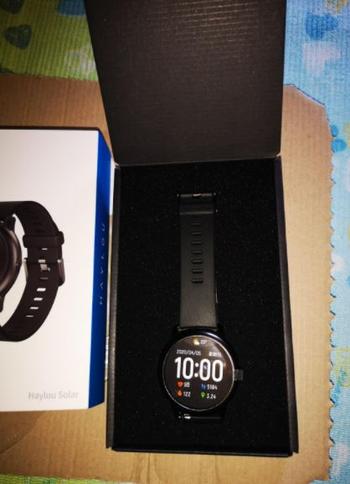 01/22/2021
Very nice watch
I am very impressed with it! cheaper than mi band 5 and (in my opinion) much better! big screen, design, very comfortable, only negative point is even tho Xiaomi owns it, you need to download another app to sync it instead mi fit app, but apart from it, excellent product!
Mark

United Kingdom