PRODUCT DETAILS
You no longer have to choose between smart and fashionable watch. The COLMI PLUS allows you to be stylish while offering all the smart features you will ever need. Beautifully crafted smartwatch with 1.7-inch IPS HD full-colour display is a big brother of P8 watch, high contrast colours bring superior HD quality while still being water-resistant.
HD Display with Rotation Button - Clear high contrast HD display with innovative technology. The rotation button lets you zoom in or out depending on your needs. Enjoy dynamic colour full-touch screen with the COLMI PLUS.
24 hours-rate monitoring - The built-in optical heart rate sensor, combined with an intelligent heart rate algorithm, pays attention to your heart rate all day long.
Sleep monitoring - Track your sleep to find out your sleep quality, so you can do adjustments and fix your sleeping pattern and lead a healthy lifestyle.
Real-time notifications - You won't miss a call or important message with the COLMI PLUS smartwatch. The perfect companion to your everyday life and stylish. You can read your message or decline a call if needed.
Multisport function - Get some movement in with the various sports modes such as hiking, running, cycling. Understand the data on how you exercise so you can improve your technique. Shows professional exercise data such as accurate records of mileage, steps and calories for you to analyse.
Long battery life - Use your new smartwatch for up to 20 days with low battery consumption. With daily usage, you can rely on your smartwatch for 5-7 days.
20 mm straps compatible with this model can be found HERE.
Customer Reviews
Write a Review
Ask a Question
05/11/2022
Works really well love mine
Excellent product does all I want it to.Fast delivery too.
Rachel S.

United Kingdom
04/03/2022
Fabulous
Fabulous smart watch great for keeping me up-to-date on my movements and heart,BP, Battery is good too 3 days with a full charge
Leigh M.

United Kingdom
04/03/2022
Brilliant purchase
Love this smartwatch been asked is it an apple watch it really looks the part
Nicola B.

United Kingdom
04/01/2022
Fabulous for the price
Really happy with the watch, it looks more expensive than it is. I wanted it for step count and notifications from my phone like calls and messages and it does all these beautifully. Would highly recommend
Claire P.

United Kingdom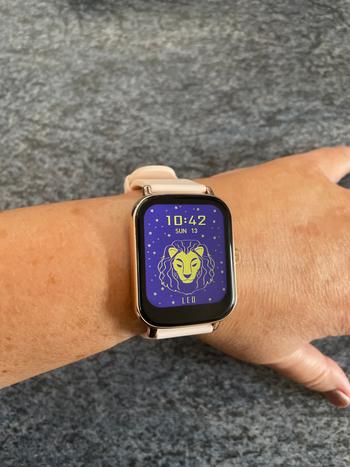 03/13/2022
Love it!!
Absolutely love this watch! Its so comfy and can hardly feel it on which is why Ive not worn watches for a long time. The different faces available are fab (although mine seems to change by itself!) My son has ordered himself one now as he loves mine so much! Absolutely worth the money
Ceris D.

United Kingdom
03/04/2022
Worth the money!
Not only did my watch arrived quickly the watch itself is amazing. Looks like any expensive smartwatch but at an affordable price. Battery life last for days on a single charge. If I was to complain about anything just that they don't sell fob straps. I work in hospital and would love it to have a fob strap.
Dawn W.

United Kingdom