PRODUCT DETAILS
The new S21 smart watch is pure romance on your wrist. It looks smart, trendy while giving you all the features and functions you will ever need in your daily life. If you are after the best of both worlds - smart & classic, this is the smart watch for you - enjoy beautiful roman numeral dial, simply elegant and charming.
KEY FEATURES
Never miss anything - Incoming call or message? You will no longer miss any notification because your phone is in your pocket or purse.
Exquisite HD Display - Beautiful rounded design with 1.28-inch full touch colour screen. You will not experience any issues with reading your notifications, or health data outside in direct sunlight.
Premium feel - The S21 model outstands many smartwatches on the market with its environmentally protected zinc alloy watch case and mirror anti-wear mineral glass.
24 hour Heart Rate monitoring & Blood Oxygen monitoring - Recording your every heartbeat, whether you're on the go or just sat on the sofa. Take care of your health every second.
Female Health Tracking - Take advantage of the built-in female menstrual cycle function. This smart watch will help you understand your health better and plan your activities.
Temperature Check - Dynamic temperature tracking will help you stay on top of your health. Not feeling too well? Measure your temperature just by raising your hand.
Built-in Multisport Mode - View exercise duration and burnt calories to help you improve your fitness game. The S21 is no exception and offers 7 sports modes from walking, running, skipping and more.
Personalise to match your style - The S21 model offers a rich selection of different watch dials to match every mood, occasion or outfit.
Other features - You can enjoy other features such as music control, stopwatch, weather display, sleep monitoring, silent alarm clock or sedentary reminder. Find more in the Specifications.
18mm straps compatible with this model can be found HERE.
Customer Reviews
Write a Review
Ask a Question
07/31/2021
great watch
It's beautiful, I love it. It has a suitable size, good fluidity in the touch screen, with customizable backgrounds. I ordered it with two straps and both good quality. It took app 1 week to arrive.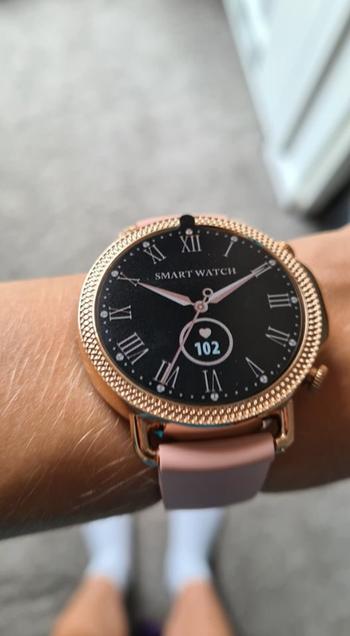 06/15/2021
super elegant
The first impression is a very beautiful watch. Chic case, soft strap, and overall looking super elegant.I have yet to try all the features, so will keep it updated.
05/05/2022
S21 watch
Good watch, I do find the battery life isn't a long requiring charging every evening. Screens always coming on without touch.
03/03/2022
Excellent value
Really impressed with this watch. It lets me see whatever my phones connevted to so if im connected to my car audio it will tell me the name to the road I'm in. It works my music connects me with all my social media messages. Really easy to charge.it has the option of 3 watch faces so looks great. It has lots of features. And really easy to connect. I have downloaded the instruction app just incase I'm unsure of something but havent really needed it..it's excellent value for money .
melanie m.

United Kingdom
03/03/2022
Granddaughter
I got it for a gift and my granddaughter just loves it
Janis

United Kingdom
01/14/2022
New smart watch
Hi i love this it came this morning and it's currently on charge whilst I've added extra watch dials and am in love with the fact I can change to even more at seasonal times however like an idiot I realised after the fact that I didn't apply my discount code