PRODUCT DETAILS
Go smart and live more with the new Xiaomi Mi Band 5. Bigger display than ever. The display area of the Mi Band 5 is approximately 20% larger than that of Mi Smart Band 4. This is the newest version made in 2021, which explains price difference.
Customise your Mi Band 5 with these colourful straps.
KEY FEATURES

1.1" large screen with dynamic colour display & all information- All on one screen The display area is again increased by about 20%. You can clearly see all your messages and reminders, and for the first time realized the dynamic dial display. Enjoy more than 65 dial options. Currently, the Xiaomi Mi Band 5 screen only displays English, but the Phone APP supports English, German, Spanish, French, Italian, etc.
11 professional sports modes - For the first time, it supports yoga, shaping and fat-reducing rowing machines, skipping ropes, and much more (see more in specifications). Accurately monitors and analyses each sports posture, heart rate, pace, and calorie consumption to help you achieve your weight-loss goals efficiently.
Super fat reduction rowing machine mode - 80% muscle groups at a time - If you want to lose body fat quickly, this exercise can exercise the muscle groups of almost the whole body in one exercise, and accurately record the time of each oar and stroke, so as to achieve an efficient fat-burning effect.


24-hour intelligent heart rate monitoring & reading every abnormality and discomfort - The comprehensive upgrade of the algorithm and hardware has enabled irregular sports such as cross-country running, mountain climbing, and hiking to be monitored up to 50% higher, and can also be vibrated when your heart rate is abnormal.
Three health modes helping you to improve your health - The personal vitality index is calculated using sex, age, heart rate and other data, and gives suggestions for activities that may improve your score. Keep your stress levels in check. The Mi Band 5 keeps track of your stress levels and gives suggestions for easing and recovering from stress. Quickly ease your body and mind with a guided breathing exercise of 1–5 minutes' duration, following the breathing patterns shown on the display.
Brand new women's health & monthly secrets - Recording reminder, physiological period, ovulation period, not only can record all but also reminds you before coming. The longer you use it, the better you understand your body.
Customer Reviews
Write a Review
Ask a Question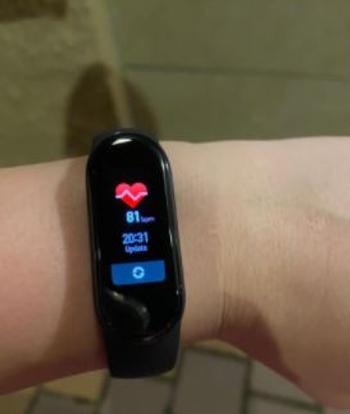 05/12/2021
So much for so little
My Band 5 is great. I got the one in yellow and it comes as an extra band so I have 2 without paying extra! Came fast all well packed, comes watch, charger and manual. It works very well and is very easy to handle. After I 've had the Band 4 I definitely stay with Band 5 and more for women and you it controls menstrual cycle. I recommend it
05/08/2021
lovely!
Product received in perfect condition, will buy again without any doubt!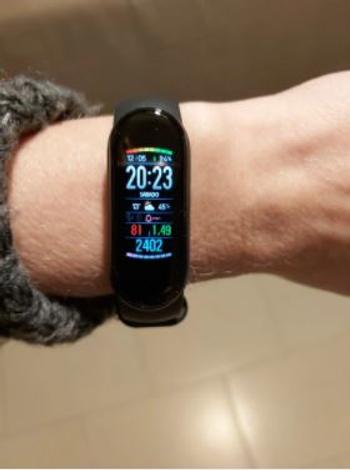 05/01/2021
highly recommend
I bought this for my fiancé as she was curious about the one that I had previously bought for myself. She uses the Apple Health app on her phone for step counts and was complaining about it's accuracy. Pairing the smart-band with her iPhone 6 was simple and she now has more accurate step counts along with heart, sleep and stress information; she suffers with anxiety and doesn't sleep well which is reflected in the data gathered by the smart-band.The mandatory app "Mi Fit" needs to be installed on your smartphone and can be linked to other health apps like Apple Health or Google Fit to update them with data that is only available via a wearable device. The battery charge is good and she gets around two weeks of use before having to recharge it. I highly recommend this product for its low cost and high functionality.
04/29/2021
good value
Arrived when predicted. It is a good value fitness tracker. Neat and with a good vibration strength for alarms, reminders and calls. I'll not used all the functions as I don't run or cycle. The sleep and heart rate monitors work well. The charger is easy to attach. I am still learning about all the actions I can do with it.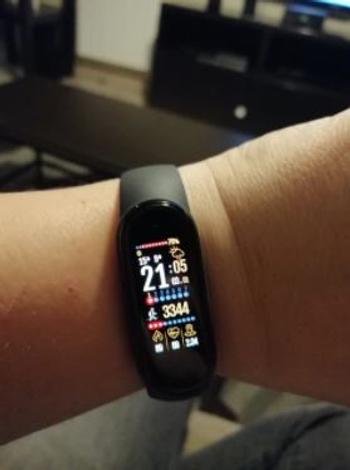 04/22/2021
fantastic fitness tracker
Fantastic, color and perfect for daily use. It's a little thicker than the previous version, but equally useful and with the functionality of time and music that was all I wanted. Battery lasts a lot.
04/18/2021
very happy
Very happy, it works perfectly. It measures steps, running, bicycle, heart, stress. My father was delighted.