PRODUCT DETAILS
S20 Pro model is here, this upgraded version has new battery saving capabilities, metal frame and new chip inside that is faster and more accurate. The design of this watch is the next level as well that looks very luxurious and fashionable, which makes it great value for money!
KEY FEATURES
Guard your health - You can track your heart rate 24/7, blood pressure and blood oxygen. By connecting to the app you can view trends changes throughout the day. This watch was calibrated the same way as a popular expensive smartwatch, so you can get the same accurate measurements. You can also pair it with your Apple Health App. This watch is also compatible with Android.

Be alert! - Every message is important, so you cannot miss it! Just keep your phone in your pocket and read your WhatsApp or messenger messages, hang up the incoming call or get other important notification.
Smartwatch that follows the trends - Light metal watch frame, Full HD display is making this smartwatch feel premium. Any 20mm strap will fit this watch, so you can customise it as much as you like, so it fits every occasion.
Show off your passion for sports - Even though this watch looks very elegant, it can be very useful if you run, cycle or do any other exercise. The watch uses your phone's GPS, which means you can see the map on your app as well and get an idea about the distance you walked or run.
A lot more features for you to explore - We cannot forget to mention other features such as sleep monitor, stopwatch, alarm clock, timer, sedentary reminder, music control and taking pictures remotely. Explore all features now!
Customer Reviews
Write a Review
Ask a Question
04/13/2021
Love it.
Got this for my 12 year old, he absolutely loves it. All the features in the watch are very good and the fact that he can change the dial face as many times he wants is a bonus. Came with screen protector and he didn't need to charge it for almost 3 days after the 1st charge. I would definitely recommend it.
K.Ahmad

United Kingdom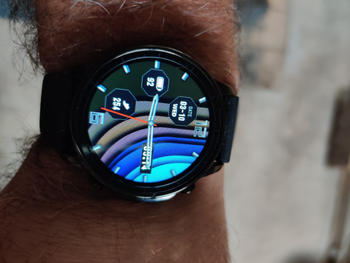 03/10/2021
Good quality watch
Easy to setup with app,lots of clock face choices.Gives clear data for steps, heartrate etc on watch plus in-depth on the app.Messaging works fine. Nice size watch, not to bulky like some smart watches and very comfortable to wear. So far very impressed, amazing value for the money.
Tony H.

United Kingdom
05/24/2021
Great Product
Great value product - easy to set-up - absolutely delighted - would recommend without any hesitation!!
04/28/2021
Love it.
I wasn't sure at first but after reading all the reviews i thought of purchading it for my 12 year old. This watch is absolutely worth the money, it has so many smart features in it especially the face dial. Charging lasts more than 3 days. My son is very happy with it and so am i. If you are looking for a watch for your teenager i would definitely recommend this.
shazia a.

United Kingdom
04/28/2021
Smartwatch for Less
Glad to hear that Shazia! :)
04/26/2021
Smart watch
Very smart looking and does so many different things. Very pleased with it
Diane G.

United Kingdom
04/25/2021
Gift idea
Made an ideal gift for my grandson
Jim C.

United Kingdom