PRODUCT DETAILS
P8 Plus is the new generation of P8 Smartwatches that are very popular. This upgraded version has a call function that everybody was waiting for. It has a brand new app, that makes pairing your Android or iPhone even faster. The screen got bigger as well, but still HD and sharp graphics.
KEY FEATURES
Bluetooth call - Yes! You can make Bluetooth calls with this watch. The watch is using high-fidelity waterproof speakers, so you can make a call anytime. It is very easy to use, and you will love this feature.
Artisan design - P8 Plus is inspired by the aesthetic design and minimalism, the fine craftsmanship is captured in the details of the watch case and its classic design style. Whether you want to use it for sports or for formal occasion, slim metal watch body is elegant and sporty, just change the strap!
Technology - This budget watch uses high-end technology, compare to other models, this one has 2 chips instead of one to get more accurate data, seamless phone calls and responsive user interface. It has a low consumption of battery, so the watch can last 1-3 days. You will still charge it less than your phone.
ECG monitoring - An electrocardiogram (ECG) is a test that detects heart problems by measuring the electrical activity generated by the heart as it contracts. It asses heart health integrates PPG+HRV measurement technology and can monitor anytime anywhere. However, it should not be compared to proper ECG, but it should give you a good idea. If you have any problems, always seek advice from your doctor.
Screen size - The watch has bigger screen size 1.54 inch compare to P8, which means, you can read your notifications or use calculator function easier. This smartwatch is, of course, waterproof, so, do not worry when it starts raining or when you are washing your hands.
A lot more - It also measures your blood oxygen and blood pressure. Do you know that feeling when you do not know where is your phone? P8 Plus has an easy fix, just tap Find my phone and it will send a notification, so you know where you left your phone! The watch has 2 workout modes: cycling and running. it has calculator function Bluetooth music, sleep monitor and more.
Are you ready to explore a new budget watch of 2020 that you are going to love?
Customer Reviews
Write a Review
Ask a Question
03/17/2021
Brilliant watch.
Love my watch.So much value for the money.Quick charge time and long lasting battery life.Its a winner for mine.
Kevin S.

United Kingdom
03/16/2021
Good for a first smartwatch
This watch does all that it is supposed to. It is easy to use and looks smart. My only criticism is that the battery life is a bit short. It lasts for a full 24 hours, but that isn't always enough. Good value for money.
David R.

United Kingdom
03/02/2021
Brilliant watch
Had this watch a day and love it already. Well worth the money and love all the features that come with it. Even answer calls on it.
Emma

United Kingdom
01/25/2021
P8 plus
Seems to work ok, a bit clunky, and a very disappointing charger which I can't see lasting very long, get what you pay for I suppose.
Steve B.

United Kingdom
08/24/2020
nice watch
looks very similar to the amazfit but I havent personally used it to give a proper review as it was a gift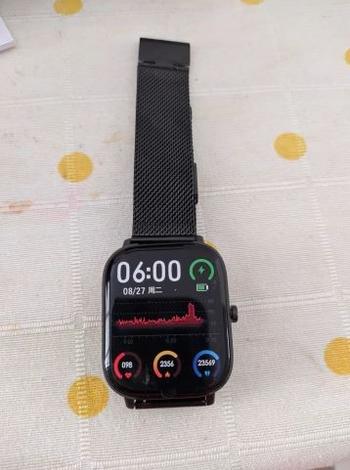 08/24/2020
good for daily activities
Great smart watch also acts as a phone. Its brilliant can use many different apps such as facebook, WhatsApp, calculator and also a diary planner. Does everything a phone does just a little smaller on a watch.�