PRODUCT DETAILS
GEN6 is a powerful smartwatch that now offers a Bluetooth Call function. It has a better and more stable Dual Bluetooth Connection 5.0 with power-saving capabilities. A very modern user interface will make you feel like having an expensive watch.
KEY FEATURES
HD Bluetooth Call Function - With a built-in premium speaker and microphone, you can make phone calls directly from the watch anytime and anywhere.
Ingenious design - Follow the trend with Nordic minimalistic design and smooth lines. 1.3-inch HD screen is rich in colours providing a vivid picture. Whether it is dark or light outside, the content looks always clear.
Measure Blood Pressure or Blood Oxygen - You can easily measure your health on your wrist. Automatically monitor and record your heart rate and blood pressure. The GEN6 smartwatch lets you know if anything is out of the ordinary at any time and anywhere.
All Day Activity Health Data -  Record daily data such as steps, distance, and calorie consumption. Protect your sleep quality, recording deep sleep, light sleep, sleep, and awake time. 7 exercise modes are available, providing reference data for your daily health analysis and improvement.
Stay Connected to Your Day - Connect fitness tracker with your phone and you will never miss a call or a message. It will vibrate to alert you if your phone receives a phone call, SMS text, and SNS messages (Facebook, Twitter, Whatsapp, Instagram, Linked In, Skype, and others).
Customer Reviews
Write a Review
Ask a Question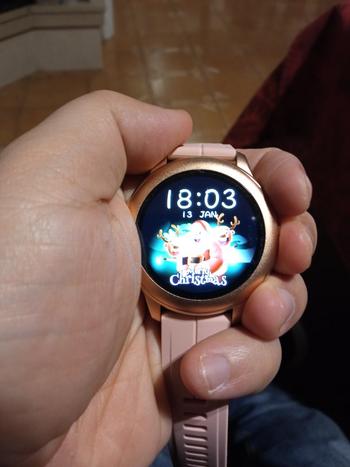 02/05/2021
I am very happy
I must recommend this watch. I love call function, so I do not have to take out my phone every time.
Monica

United Kingdom
05/04/2021
Gen6
Watch is great.Price is fantastic. Great buy.
Julie L.

United Kingdom
04/21/2021
I'm very pleased with it I'm glad I've got it helped me a lot thank you
georgina a.

United Kingdom
04/15/2021
Gen 6
I am very pleased with the gen 6 smartwatch. It is very comfortable to wear. After problems with the previous smartwatch I purchased I found the gen 6 so easy to set up & use. It needs to be charged every 2/3 days which is brilliant compared to other watches. I would highly recommend this watch
alison d.

United Kingdom
04/12/2021
Smartwatch
Love it, works a treat and getting notifications of messages is a bonus I highly recommend it
Andrea P.

United Kingdom
03/26/2021
Great Birthday Present
Love it. It has so many features. I don't know what to say perfect birthday present
Alesha A.

United Kingdom