PRODUCT DETAILS
Colmi P9 is a new model that is more user friendly and also can bring more fun to work and life. It has a nice alloy watch cover in 3 colours Black, Rose Gold and Rose Pink, a responsive display and health-related features. This model is bringing something exciting! A game mode! Which is super fun for both adults and children. It also has a new great practical function - a calculator! It also has Exercise mode, so if you are a gym lover, this is watch is for you.
KEY FEATURES
New interactive environment - Colmi P9 smartwatch uses the newest Nordic NRF52832 chip that brings a new interactive environment, games, a calculator and a custom dial. These fitness trackers are compatible with iOS 8.0 or above, Android 4.4 or above, Bluetooth 4.0 or above. 
Sports Assistant & GPS - Tracking your workouts and exercise has never been easier and never looked so good! The Colmi P9 smartwatch supports sports modes like walking, running, hiking, exercise, riding and more to keep you up to speed. Record daily data such as steps, distance and calorie consumption. The fitness tracker can be connected to your phone's GPS to provide real-time steps, distances, and routes.
Display - You can edit your dial from your mobile phone and use a real-time photo. Its 4 grid display operation allows you to just swipe and get instant access to your workouts, calculator or alarm. It can provide excellent image quality and visual experience, and the screen will wake up when you raise your wrist, and it will darken when put down. 
Health management - The lower power precision heart rate sensor reads heart rate changes through an optical algorithm. Real-time blood pressure measurement, keep track of the oxygen concentration in the blood. The Colmi P9 also has an incorporated intelligent sleep algorithm. You can also check your sleep quality, to keep good sleeping habits!
Music control - After connecting the app, you can control the music playback of the mobile phone and select the songs before and after. Experience the fun or relaxing moments brought to you by music! Exercise and your workouts will never be boring again with this feature.
Call reminder/ Message push - Read your messages from WhatsApp, Messenger or other similar apps on your watch. Even during your daily exercise, do not miss out on an important message! It will also remind you to move, and drink water or it can help you to find your phone!
Battery life - In daily use scenarios (without multi-sport mode enabled) the battery life can be up to 7 days. In some everyday cases, battery life can be up to 10 days. Also dependent on the brightness levels.
Stay connected with the Colmi P9 smartwatch, to not miss any important messages plus look super fashionable while doing so. This model will make your life easier with its practical features like the calculator or the music play mode.
Customer Reviews
Write a Review
Ask a Question
11/13/2021
Value for money
Purchased two Colmi P9 watches that were on special Halloween promotion. The watches arrived, were easy to set up and use with our Android powered Samsung J6 phones. Ideal piece of kit for keeping an eye on yoyr health and fitness.
martin e.

United Kingdom
10/15/2021
Great Watch
Bought for my Grandson and he loves it. Looks like a well known brand and ideal for school.
John S.

United Kingdom
09/27/2021
Watch review
So far so good. Long may it last unlike my previous watch which was a disaster and failed after 4 months
Laraine K.

United Kingdom
09/11/2021
P9
Performed as expected once the correct operating instructions located (shipped with Italian instructions)
David W.

United Kingdom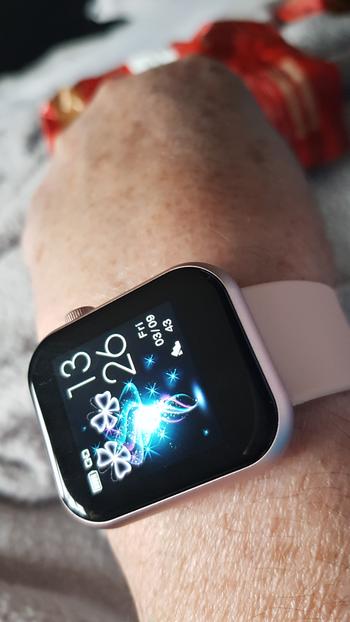 09/03/2021
Ace
Wow got my watch today.easy to set up and the strap is a gorgeous soft one unlike my Fitbit one it was not comfortable to wear.This new watch is very very accurate much better than my fitbit.Going by old watch I should be dead by now given the recordings on it.Im so over the moon with this new watch.Honestly made my day thankyou.Now once it stops raining I shall be out on a wee walk to myself use the step counter.Honestly if you want a good watch buy this one.:)))
Wendy

United Kingdom
08/16/2021
Can't answer as it was a gift for some one
Stephen S.

United Kingdom